Do you live in the UK and you're eagerly searching for Cavapoo puppies to adopt? You'd prefer to go through a breeder to ensure the pedigreed profile of your pup. Which are the best, most reputable Cavapoo breeders in the UK?
Here are the most trusted Cavapoo breeders in the UK:
Lotties Cavapoos & Cavachons
Glendream Doodles
Rosedale Doodles
Pawfect Cavachons & Co.
Henley Cavapoos & Multipoos
Prestige Cavapoo
Kettreana Cavaliers and Cavapoos
Adopting a sweet Cavapoo with a strong lineage won't be hard when you have so many reputable breeders to select from. In this guide, we'll go over each breeder on the list above so you can choose the right one for you!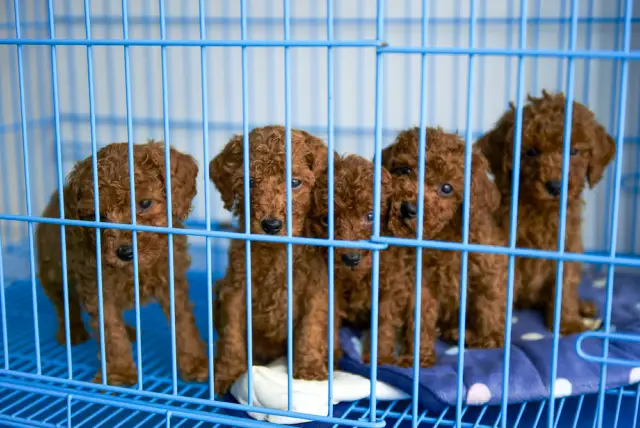 The Top 7 Most Reputable UK Cavapoo Breeders
1. Lotties Cavapoos & Cavachons
We'll start our list with Lotties Cavapoos & Cavachons in Southampton, England.
Lotties is led by a breeder named Charlotte Purkiss. In 2012, Charlotte began breeding Cavapoos to get over the pain of child loss.
It took off from there and became more than a coping mechanism for Charlotte but a means of furthering that nurturing spirit that she couldn't do by expanding her human family further. 
All puppies start off by living in Charlotte and co.'s four-bed detached house. The house includes an enclosed garden for the puppies to get plenty of fresh air and activity.
Charlotte and her husband are both trained in canine first aid, which is another guarantee the puppies will be safe until they reach their furrever home.
When you find a sweet Cavapoo puppy that you want for your very own, Lotties Cavapoos will supply you with a going-home folder.
In the folder is a copy of the mother dog's DNA and the father dog's DNA.
You'll also have coefficient scoring copies to prove against inbreeding, proof of four free weeks of your pet insurance plan, a health certificate, a vaccination card, a contract of sale for the Cavapoo puppy, a cardiologist report, and a written receipt.
Charlotte also includes a bag full of training treats, toys, and food for a growing Cavapoo puppy.
2. Glendream Doodles
In Fife, Scotland is a highly esteemed Cavapoo breeder called Glendream Doodles.
A man named Paul is the founder of Glendream Doodles, which specializes in Goldendoodles, Cavapoos, and Cockapoos. Paul raises them all at his at-home kennel.
That kennel is situated in a farm cottage that's enveloped by woodlands and fields that the puppies play in all day.
Paul has been a dog lover for as long as he could remember, and he registered the Glendream business when he was only 15 years old!
Glendale Doodles features primarily first-generation Cavapoos bred from Toy Poodle and Miniature Poodle stud dogs as well as Cocker Spaniel females registered with the Kennel Club.
The Cavapoos come in several sizes, from small to medium-sized. On the Glendale website, Paul calls his Cavapoos very healthy, affectionate, loving, and cuddly.
The color variation available in the Glendale Cavapoos is sure to impress. Some are black and tan, others have merle coats, and most are fox red with some apricot.
Once the puppies turn four to six weeks old, Paul welcomes serious buyers to meet the puppies. You'll also meet the mother dog and possibly the father too. The visits take place in his home.
You'll have to sign a desexing contract that promises that you'll neuter or spay the puppy after taking them home. 
3. Rosedale Doodles
Rosedale Doodles is based out of Longton, Preston, England.
The founders have more than 40 years of experience breeding dogs. They also have a 5* rating and a breeding license.
Rosedale specializes in Cavapoos, Cockapoos, and Cavapoochons, which are a combination of the two dogs.
The family-owned business raises all the puppies on the premises. They're kept in specialty kennels near the owners' home. In the vicinity, the dogs have six acres of fenced-in greenery to enjoy.
All stud dogs and bitches are registered through the Kennel Club and pass DNA testing for Von Willebrand disease types 1 and 2, degenerative myelopathy, LOPRA, PRCD, PRA, and neonatal encephalopathy.
By the time the puppies leave the Rosedale Doodles kennels and are on their way to you, you can rest assured that the Cavapoo will have had its first vaccinations. The dog will also be microchipped and have had a full health check at the vet.
You're also given a puppy pack that will include a comfort blanket with the mother dog's scent as well as some dog food.
You can view the Cockapoo puppies as well as the mother and father dogs at the Rosedale kennels. If you like what you see, you can put down your first deposit.
In the time between the dog going to you, you'll receive video pupdates every week until your puppy is of age to live with you.
4. Pawfect Cavachons & Co.
In the Midlands, Pawfect Cavachons & Co. is a breeder to pay attention to.
Their puppies, which include Cavapoos, Cavachons, and Cavapoochons, are all raised in a personal home that belongs to the breeder. The puppies aren't separated from their mothers for a good long while.
The puppies eat an 80/20 grain-free diet that includes vet-approved dry food. Some puppies are given the raw diet if the vet deems it appropriate.
All puppies regularly see the vet to ensure they're free of episodic falling syndrome, dry eye, and heart issues. The puppies are even tested by a cardiologist for a clean bill of health.
By the time your sweet, lovely Cavapoo puppy arrives to you, the dog will have been microchipped.
You'll receive a contract, a copy of the birth certificate for both parent dogs, a blanket that smells like the mother, free pet insurance, and a puppy pack.
5. Henley Cavapoos & Multipoos
A favorite among UK breeders, Henley Cavapoos & Multipoos in Oxfordshire, South East England, UK offers Maltipoos and Cavapoos. Cavapoochons are available on occasion as well.
The family-owned breeders are licensed and have over 90 collective years of experience producing healthy, socialized, and balanced puppies.
The Cavapoo puppies are raised in the breeder's home where they adjust to household noises and are being handled. They're socialized out of the gate.
All puppies undergo health testing following Kennel Club Assured Breeder Scheme recommendations.
The available Cavapoo puppies are F1 Cavapoos bred from Miniature or Toy Poodles and Cavalier King Charles Spaniels.
Henley does not permit home visits, so you'll have to join a waiting list if you're interested in one of the Cavapoo puppies.
While it could take some time before the breeder has a puppy that suits you, once they do, you will be able to see the puppy before buying them.
The breeder will send your Cavapoo puppy to the vet for one more health check before they start their new and exciting life with you!
6. Prestige Cavapoos
As you consider your options for Cockapoo puppies in the UK, don't overlook Prestige Cavapoos in County Durham in North East England.
The Prestige Cavapoos team is led by Becky and Nik. They share a home on four acres that includes a lot of geese, ducks, chickens, goats, horses, and puppies!
Becky has canine hydrotherapist and veterinary nurse experience, so she and Nik know a thing or two about raising healthy puppies. It's no wonder that Prestige Cavapoos is a five-star breeder.
The fully licensed company has bred puppies for more than 20 years, including dogs that have been awarded well over 100 championship titles and counting.
The Cavapoos that Nik and Becky breed are raised around children so if you already have kids in the house, your new puppy will adjust much easier.
When you choose to adopt a Cavapoo puppy, included with your purchase is proof of a health check by a veterinary surgeon, proof of first vaccinations, and a worming certificate.
You'll also receive paperwork detailing the puppy's family tree, a flea treatment (you can never be too careful), microchipping, a month's worth of food, toys, food bowls, and a pillow and blanket with the mother's scent.
Prestige Cavapoos also offers aftercare if you need it for as long as you need it.
7. Kettreana Cavaliers and Cockapoos
The last UK Cavapoo breeder we'll look at is Kettreana Cavaliers and Cockapoos.
This breeder is a licensed Cavapoo and Cavalier King Charles Spaniel breeder in the Peak District in England, UK.
Having bred Cavapoos since 2010, Kettreana promises that all puppies are registered through the Kennel Club.
Before any Cavalier King Charles Spaniels are bred, they undergo health testing, including DNA health testing, cardiologist heart testing, and BVA eye testing.
The availability of the Cavapoo puppies varies, so if you're interested in buying a dog from Kettreana, you should strongly consider joining the waiting list.
Conclusion
The UK is home to some passionate and very reputable Cavapoo breeders. These breeders take special care to ensure the Cavapoos you buy are healthy, sociable, and ready for long, happy life with you!
Related Reading:
New York Cavapoo Puppy Breeders (2022 List)
6 Reputable Texas Cavapoo Puppy Breeders (2022 List)
What Is A Cavapoo Dog? (And is this breed right for you)
Barrel Vs. Deep Chested Dogs (Examples Included)