Making your puppy a batch of homemade dog treats is a great way to ensure you always have something tempting on hand to give him for good behavior or just because. It's also a great way to save a few dollars. Tasty dog treats don't always come cheap, especially if you're concerned with quality ingredients. I love to whip up a batch of delicious treats for my dog knowing exactly what goes into them. That way I can be sure there are no preservatives or other chemicals mixed in.
So if like me (a self-confessed helicopter dog mom), you enjoy looking at all the many possible DIY dog treats you can make your precious pooch, then you'll love this list below.
These very sweet-looking paw print dog cookies make a delicious peanut butter treat for your furry friend.  Why not make an extra batch to package up as a thoughtful and delicious gift for someone else's fluff ball? They are sure to love them as much as your own pup.
This recipe takes just 15 minutes to prepare using a combination of flours, apple sauce, egg, and of course peanut butter (free from xylitol). You will make enough for 60 yummy paw print cookies and any leftover dough can be frozen for another dog treat baking day.
Put your Air Fryer to use for your four-legged friend who will absolutely love these pumpkin and peanut butter dog treats.
Shaped into cute dog bones, these treats are made with flour, pumpkin puree, egg, and natural peanut butter (which contains no xylitol).
In your Air Fryer, these treats will cook in as little as 4 or 5 minutes per batch. So if you're in a hurry to treat your pooch, this recipe is easy and quick to make.
What doggo can resist the taste of bacon? None that I know of and your dog is sure to love these dog treats too.
These dog biscuits are made with bacon grease that you can either purchase or save from your own tasty bacon. Other ingredients include whole wheat flour, cornmeal, olive oil, and water.  
Shaped into tempting dog bones, these treats will be a hit with your furry friend.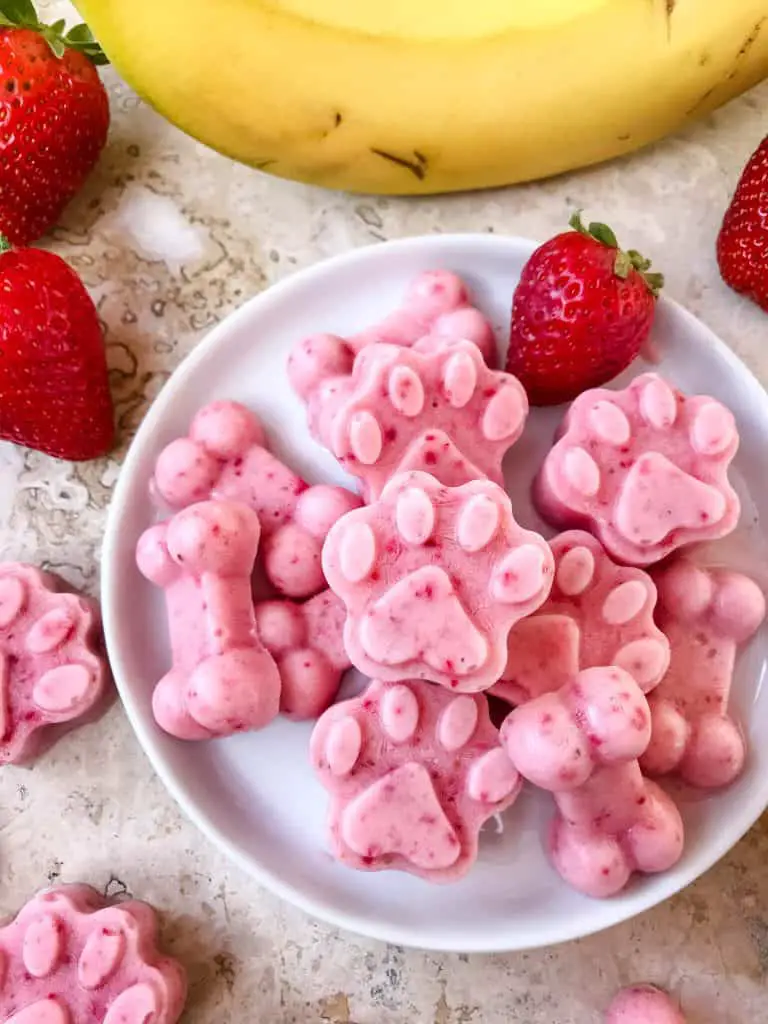 A frozen treat perfect for summer days, these frozen strawberry banana dog treats really are good enough for humans to eat too!
This recipe uses strawberries, bananas, yogurt, honey, and water to make these very tasty treats dogs will love. And you can use either fresh or frozen fruit.
Once you make a batch of these frozen goodies, they'll keep for up to two months in the freezer.
These dog donuts really could be mistaken for a decadent human donut treat! Your puppy will be very happy with such a generous and delicious dog treat. And making them is a fun way to help celebrate a special occasion, like a birthday, in your furry friend's life.
Make these dog donuts with simple ingredients using banana, egg, coconut oil, peanut butter, flour, and oats.
Once you have made up a batch of doggy donuts, you can give your puppy a delicious treat and freeze the rest for another day.
These homemade dog treats are very simple to make and use only 3 ingredients!
Pumpkin, flour, and peanut butter are combined for a flavorful cookie shaped into tempting doggy bones.
This recipe makes 30 treats and you can easily store any leftovers in the freezer.
Dehydrated dog treats are made almost the same as you would any other cookie in the oven but dehydrating them gives them a really crispy finish.
These delicious homemade dog treats combine flours, oats, banana, coconut oil, peanut butter, and eggs.
And because these dog treats are dehydrated, they have a really long shelf life of 3 months which makes whipping up a batch of these DIY dog treats well worthwhile.
These no-bake coconut dog treats can be made in minutes so you can be treating your dog in no time at all!
Topped with crispy coconut flakes, they are filled with coconut goodness, including coconut milk, flour, and coconut oil with a dash of peanut butter (xylitol free).
And because these dog treats are not baked, they are soft treats just perfect for senior dogs who might struggle with hard foods.
You can also use these soft treats to hide any hard medicated tablets your dog might not be fond of eating on its own because these dog treats are irresistible!
Using just two ingredients, this recipe has everything your furry friend could want on a hot day: chicken and yogurt, frozen to perfection for a refreshing and cooling dog treat.
You don't need to buy any special chicken for this recipe, just save and use your leftovers.
A great way to use up any leftover roast chicken and a super simple but delicious treat for cooling off in summer. Your dog will love them!
If you're looking for a dog treat biscuit recipe without pumpkin or peanut butter, then this recipe is for you. The twist for this recipe is the use of parsley which is actually a great breath freshener.
Of note, you need to use the curly leaf variety of parsley, not to be mistaken for 'spring parsley' which is harmful to dogs.
Other ingredients include chicken bouillon cubes for that deliciously tempting chicken flavor, along with flour, eggs, and water.
Your doggy will love these chicken-flavored biscuit treats. You can even package them up as a dog gift for another furry friend.
For a dog treat that's made a little differently, why not try these frozen kefir dog treats? They're made with kefir which is a fermented drink similar in flavor to yogurt.
Combined with other classic flavors of banana and dog-friendly peanut butter your dog already loves, these frozen treats will add a new depth of flavor they're sure to thank you for with licks and cuddles.
If you're looking for homemade dog treats without peanut butter, this recipe is for you.  Instead, this recipe combines pumpkin puree, strips of bacon, flour, a little baking powder, egg, and water for a deliciously tasty dog treat your puppy will love.
These cookies are cut in the shape of cute dog bones but you can make them any shape you like. They are also the perfect diy dog cookie to package up as a gift for another four-legged friend.
Further Reading: